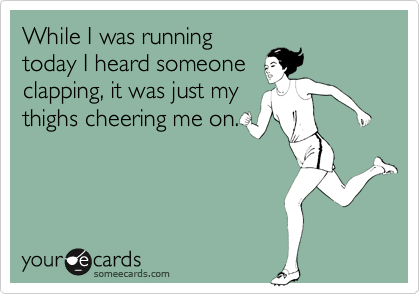 I grew up with the infamous Napster, making playlists and burning CDs to play in my sweet little red Saturn. Napster and Saturn have since ceased operations, as Wikipedia would say. Now there are several online streaming services to choose from and for the last couple years we've been using Spotify. I initially thought it was just another monthly cost that was going to eat away at our huge nest egg. Joking, our nest egg is more like a few twigs than a nest.
I found that I really like it though! I can listen to it at work, through our Sonos system at home, and on my phone. I like that you can create playlists to be available offline, perfect for plane rides or when you don't want to eat through your data. I've created several playlists, including the one below titled "Thighs Clapping" because it's my running playlist.
It's so cool it lets you embed playlists, but I couldn't figure out how to center it. HTML and I don't get along.