Maybe an unusual set-up, but are putting an entertainment center in the master bedroom. After considering how much space we had, how much storage we needed and how big our TV is, we decided it was our best bet. How. How. How.
The Previous Plan
For a long time I wanted this large dresser. But, I realized it wasn't enough storage, for us to be able to get rid of the other two dressers. Also, the dresser is about 6 feet wide, so I think the space would still feel empty.
From door to door, the wall is about 14 feet long. The glass stand is about 3.5 feet wide, barely holding our 52-inch TV. So, needless to say, the wall can stand to hold a very substantial piece; enter an entertainment center…
Entertainment Center in the Master Bedroom
I love the sliding barn door entertainment centers! My thought was to use use the drawers and shelves on the left and right as our dresser. And leave it 'open' the majority of the time.
This is the first one that I found that I fell in love with. I like the big hardware, four drawers in the center and the color. I do not like the $5,200 price tag.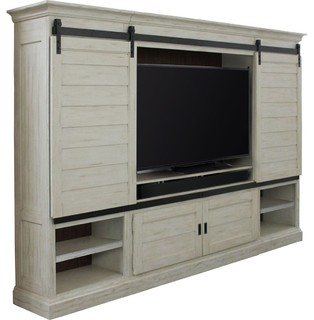 This one from Houzz
 at $3,169 is a little more reasonable. I wasn't sure how the distressed white would look with our very-white trim and doors. I also didn't like that the doors don't have handles and there is slightly less storage, because of the open shelving.
We briefly considered
this one from Overstock
. I like the chunky barn door hardware like the first one, but like the done above it doesn't have a door handle. The price was even more reasonable at $2,300, but ultimately we cut this one because of the two-tone.
The One
We settled on
this one from hayneedle
. At $2,844 it was sort of the middle of the pack as far as price goes. I like the color of the wood, the dark hardware and the farmhouse look. I'm also thinking the half barn doors will be better for our us. The tape measure in the 'before' picture at the top of this post shows how long and how deep it is. Still plenty of space for both doors to swing open.
Shipping was free, but I opted for the extra $100 for "room of choice" delivery. Like our
washer/dryer
, it's a straight shot from the front door to our bedroom, so it should be easy for the delivery guys- which is scheduled for this Friday! Stay tuned for a full assembly and reveal!